Braga & Guimarães tour - Day-trip from Porto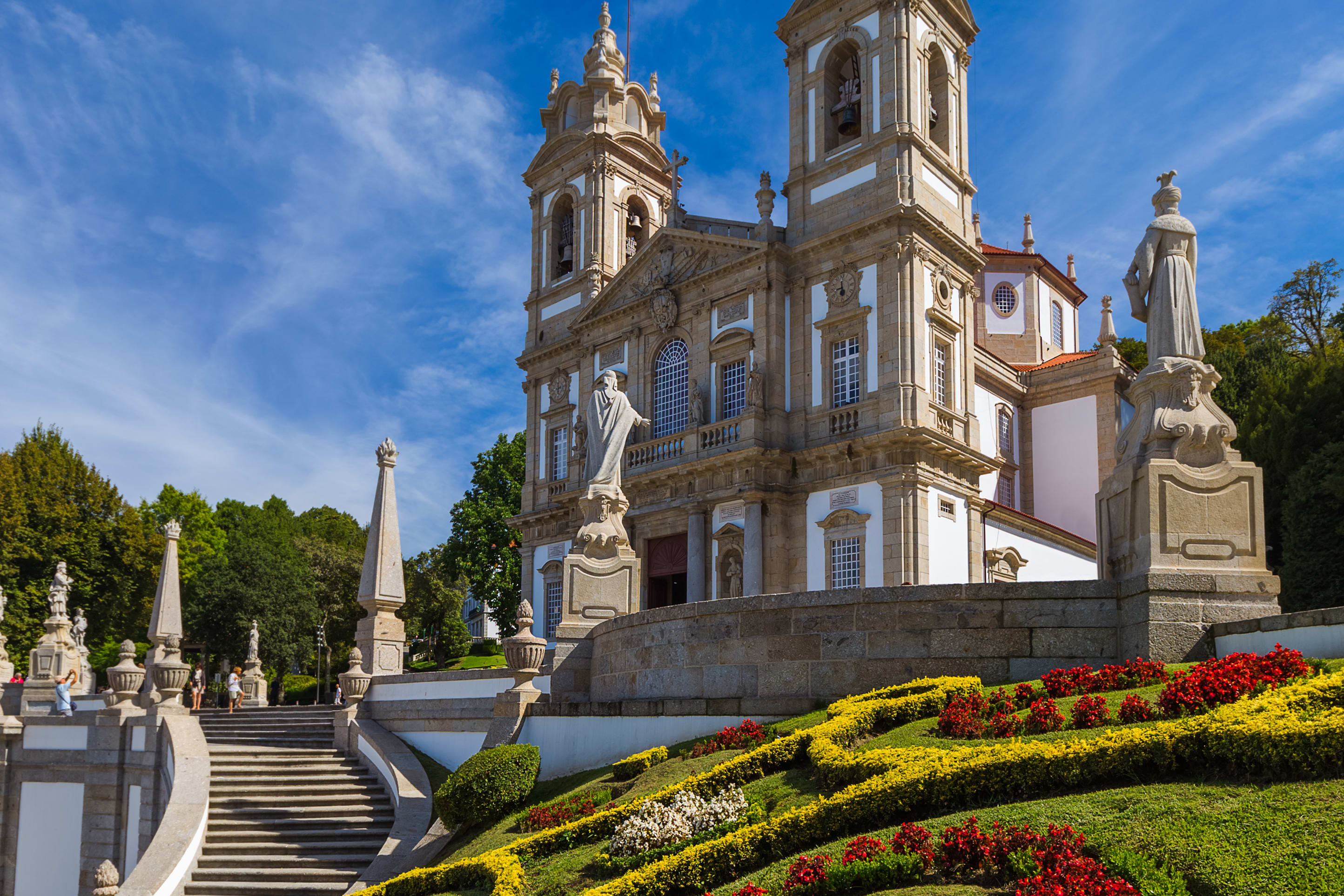 TOUR DESCRIPTION
Discover two of the most beautiful cities in the north of Portugal in a simple, convenient and affordable way. First visit Guimarães, European Capital of Culture in 2012 and a World Heritage Site by UNESCO since 2011, where you can visit the Guimarães Castle, Birthplace of the Nation, and the Palace of the Dukes of Bragança. After Guimarães visit Braga, where you can wind through its many gardens, visit the countless churches and palaces which fill this city with history.
Visit two of the most notable cities in the North
Stops and guided visit to Braga and Guimarães
Free acess Porto Vintage 2 days
9h duration
Guided tour in English, Spanish and Portuguese
MORE INFORMATION
Those who discover the North of Portugal always visit Braga and Guimarães, and the short distance from Porto makes these cities unmissable. Guimarães is historical, from where imposing monuments like the famous Castle, or the Dukes' Palace stand out; churches and oratories in each corner mark the deeply religious spirit that has always been present here, and on the mountain tops we find shrines, places of prayer, pilgrimages, from the penance climbing, to the glory of reaching the heights. Here we live with history and tradition, of the city that is proud to be the birthplace of Portugal. Wooden windows, granite stonework, Gothic arches and wrought iron make Guimarães a medieval scenery. Its esplanade squares invite us to a pause, in a time back in centuries, where for a moment we forget everything and enjoy the peace of those who do not live in a hurry. Between mountains crowned by ancient shrines, everything that the eye reaches, evokes peace and spirituality: this is Braga, a religious city, closely linked to its devotions and customs, and at the same time surprisingly young and innovative, with its universities and research centres. Here, time does not pass quickly either, except when we live this city to the fullest. Arcades, baroque buildings, esplanade squares and secular stones, where every nook is a treasure to be discovered. Not to miss the Braga Cathedral, one of the oldest monuments in the country, and a walk through the historical centre.
Route & Stops
BRAGA & GUIMARÃES TOUR
1 - Praça da Liberdade
2 - Guimarães | 2h30 guided visit and free time
3 - Braga | 3h30 guided visit and free time
4 - Praça da Liberdade
Important Information
Ticket type
Duration
Departure point
Praça da Liberdade Yellow Bus Kiosk(Coordinates: 41°08'46.8"N 8°36'41.9"W)
Schedules
We will be back soon. Please stay tuned to our website and social media platforms for schedules updates
Guide
Portuguese, English and Spanish
Advantages & Discounts
FREE access to Porto Vintage tour (2 days)Discounts on tickets to museums, restaurants and leisure activities.10% Discount in other Yellow Bus tickets
Redemption instructions
In order to activate the voucher, please present it (either in print or on your smartphone) at the Yellow Bus Kiosk, at Praça da Liberdade, which is also the meeting point for this tourPlease be at this meeting point 15 to 30 min earlier, for the check-in.
Usage instructions
Ticket validity: 1 trip
CARRISTUR reserves the right to change, suspend or eliminate any of its touristic products or transport services
CARRISTUR shall not be held responsible for tickets loss or theft.
Booking terms
Minimum nr. of participants: 5
Cancellation policy
Free cancellation, if not used, within 14 days after purchase. After this period the refund will not be possible.
If bought as Flexible Ticket, the voucher is valid for 180 days. If it is not possible to take the tour within this period or on the date selected at the purchase moment (Fixed Date Ticket), you can request us a date change by email, which will be made without any penalty, as long as the product is still available.
Alerts
If you have children under 4 years old, please contact +351 967 659 257 or [email protected], with at least 24h advance, in order to reserve a free seat for them.
More informations
Find us at the Yellow Bus Kiosk Liberdade (9.00am-1.00pm e das 2.00pm-6.00pm)or contact Yellow Bus Customer Service- (+351) 218 503 225 (9.00am-1.00pm) | [email protected]
COVID-19 MEASURES
- The use of a mask is mandatory. The customer must bring their own mask.
- Alcohol gel available.
- Digital flyer available
- Capacity of the means of transport reduced
- Places with social distance
- Vehicles cleaned and disinfected every day