2 SIGHTSEEING BUS TOURS
Porto Vintage Bus Tours - 2 Sightseeing Hop-on Hop-off tours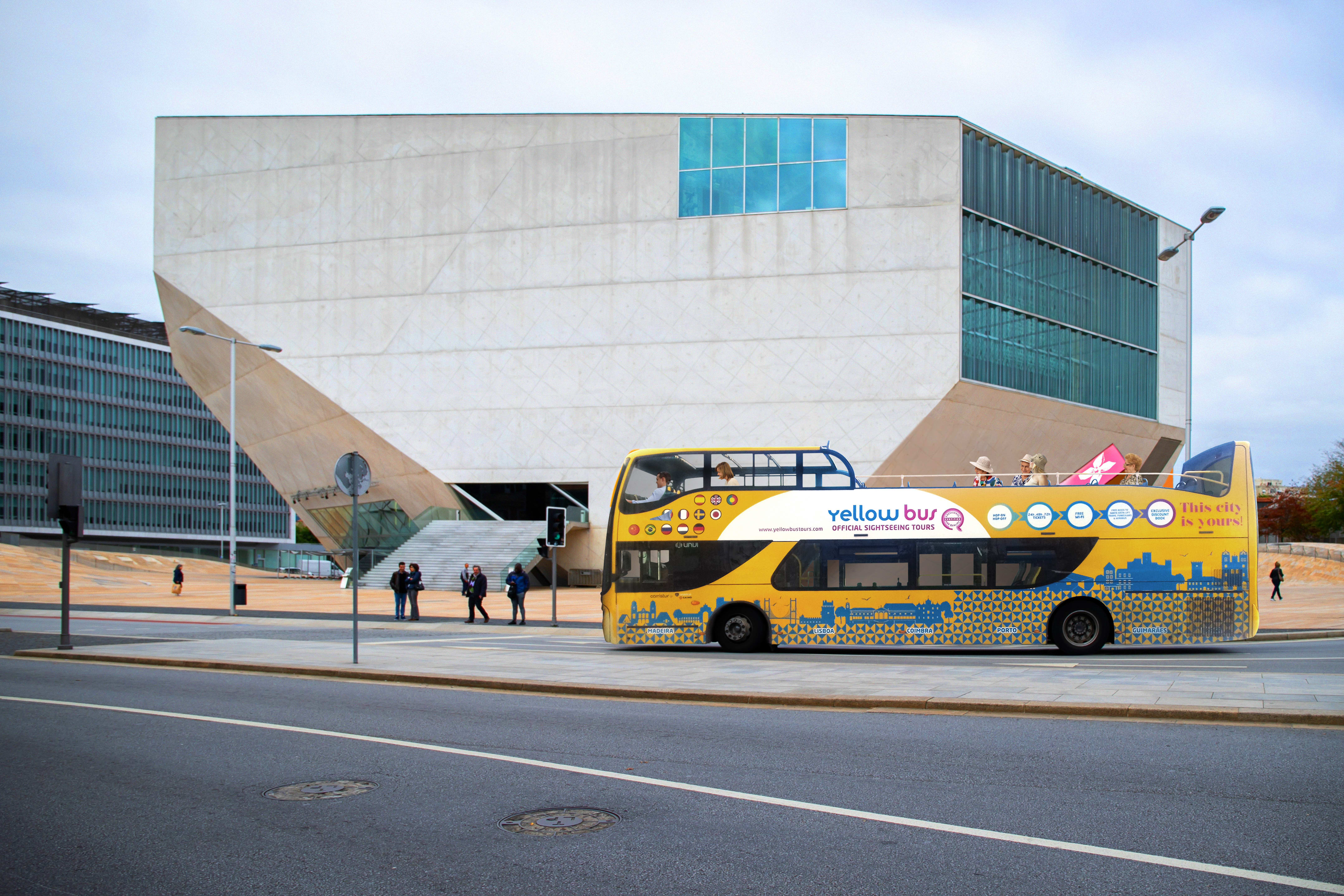 TOUR DESCRIPTION
One combo ticket to discover the historical area of Porto, with the Historical Porto bus tour, and the modern area with the Porto Castles bus tour; hop off in the places you can't miss such as Torre dos Clérigos, Casa da Música or Sealife Porto - don't forget to taste the famous Port Wine in the cellars Poças Junior and Quinta da Boeira, in Gaia.
From the historical to the modern Porto, on Open Top Bus
Combo ticket: Historical Porto + Porto Castles
Porto Wine tasting
Hop-on Hop-off
Stops in Downtown, Ribeira, Gaia Cellars and Matosinhos
Up to 2h duration (each tour)
1 or 2 days ticket validity
MORE INFORMATION
Discover the city of Porto within two sightseeing tours, two diferent aspects of the city. The predominance of the Baroque, the connection to the Douro River, details that make Porto unique - like Port wine, and places worth visiting, like the innovative Casa da Música, the emblematic Lello bookshop or the famous Torre dos Clérigos. Then each tour departs in opposite directions, sometimes towards the beaches and seafood restaurants in Matosinhos, or towards the panoramic views of Gaia, and the Port wine tasting at the cellars; we also suggest a climb to the viewpoints over Porto, such as the rooftop of the Yeatman hotel, where admiring the views tastes even better with a drink to go with it.
Routes & Stops
HISTORICAL PORTO
1 - Praça da Liberdade
2 - Sé Catedral / Cathedral
3 - Praça da Batalha
4 - Cordoaria / Clérigos
5 - Carmo
6 - Ribeira / Palácio da Bolsa
7 - Cais de Gaia / Caves Calém
8 - Porto Viewpoint / Yeatman
9 - Lg. Dos Aviadores / Casa Museu Teixeira Lopes
- Poças Junior wine cellar - 10 min walking
10 - El Corte Inglés
11 - Câmara de Gaia
12 - Jardim do Morro
13 - Praça da Batalha
PORTO CASTLES
1 - Praça da Liberdade
2 - Sé Catedral
3 - Praça da Batalha
4 - Igreja do Carmo
5 - Pavilhão Rosa Mota
6 - Casa da Música / Rotunda Boavista
7 - Hotéis Av. Boavista
8 - Fundação Serralves
9 - Parque da Cidade
10 - Castelo do Queijo / SEA LIFE Porto
11 - Anémona
12 - Matosinhos - Restaurantes
13 - Posto de Turismo / Terminal de Cruzeiros
14 - Matosinhos - Praias
15 - Anémona II
16 - Castelo do Queijo / SEA LIFE Porto
17 - Passeio Alegre
18 - Fluvial
19 - Museu do Carro Elétrico
20 - Cordoaria/ Clérigos
Important Information
Ticket type
1 or 2 consecituve days ticket - Hop-On Hop-Off
Duration
Historical Porto Tour: 1h30
Porto Castles Tour: 2h
Departure point
Schedules
Every day
Historical Porto:
9:30 - 17:00 (every 90 min.)
Porto Castles:
9:15 - 17:15 (every 120 min.)
Audio Guide
Portuguese, Spanish, English, French, German, Italian, Dutch, Japanese, Russian, Portuguese from Brasil, Mandarin and Polish
Advantages & Discounts
1 Day Ticket includes: Guided visit to Boeira Garden Hotel, Curio Collection by Hilton (closed on Sunday) and to Espaço Porto Cruz with wine tasting (closed on Monday).
2 Days Ticket includes: Guided visit to Boeira Garden Hotel, Curio Collection by Hilton and to Poças Junior Wine Cellars with wine tasting (both closed on Sunday).
Discounts on tickets to museums and leisure activities
10% Discount in other Yellow Bus tickets
Redemption instructions
In order to activate the voucher, please show it (either in print or on your smartphone) to the driver or another member of the Yellow Bus Team, or at the Yellow Bus Kiosk at Praça da Liberdade (9.00am-1.00pm and 2.00pm-6.00pm)
You will receive a ticket in exchange for your voucher, which you must keep until the expiry date.
Please check your ticket to know when it expires.
After exchanging your voucher for a ticket, your voucher will no longer be valid.
Usage instructions
1 Day ticket validity ends on the day of validation of the ticket.
2 Days ticket is valid during the validation day and the next day
Hop on Hop off: hop on and off on any stop along the route, while your ticket is valid.
CARRISTUR reserves the right to change, suspend or eliminate any of its touristic products or transport services.
CARRISTUR shall not be held responsible for tickets loss or theft.
Cancellation policy
Free cancellation, if not used, within 14 days after purchase. After this period the refund will not be possible.
If bought as Flexible Ticket, the voucher is valid for 180 days. If it is not possible to take the tour within this period or on the date selected at the purchase moment (Fixed Date Ticket), you can request us a date change by email, which will be made without any penalty, as long as the product is still available.
More information
Find us at the Yellow Bus Kiosk Liberdade (9.00am-1.00pm e das 2.00pm-6.00pm)
or contact Yellow Bus Customer Service- (+351) 218 503 225 (9.00am-1.00pm) | yellowbus@carris.pt
COVID-19 MEASURES
- The use of a mask is mandatory. The customer must bring their own mask.
- Alcohol gel available
- Digital flyer available
- Capacity of the means of transport reduced
- Places with social distance
- Vehicles cleaned and disinfected every day
RELATED PRODUCTS
The best of Porto in one ticket
Combo ticket: Porto Vintage 2 days + 6 bridges river cruise + Porto Calém wine tasting
Hop on hop Off
Guided visit to Calém Port wine cellars and free wine tasting
Up to 2h duration (each tour)
2 days validity
Adult
€28.00
Child
€14.00