Service suspended due to COVID19. We will be back soon.
TEMPORARILY UNAVAILABLE DUE TO COVID19
Pena Palace & Sintra tour, Cabo da Roca - Half-Day Tour from Lisbon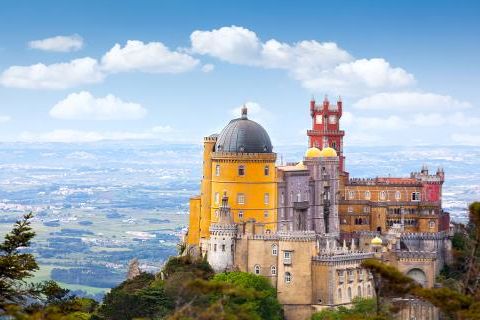 TOUR DESCRIPTION
Discover the wonders of Sintra, the UNESCO World Heritage Site. At Sintra Village don't forget to taste the famous queijadas and travesseiros. Entrance and guided tour to Pena National Palace included and stop at Cabo da Roca, the westernmost point of Continental Europe.
Discover the fairytale palace and the romantic mountain of Sintra
Visit of Pena palace included, stops in Sintra and Cape Roca
5h30 duration
Guided tour in English, French and Portuguese
MORE INFORMATION
One of the things to do in Lisbon is discovering its surroundings: and our sightseeing begins towards the Sintra Mountains, and through palaces and lush vegetation we climb to the Pena Palace: a true example of the Romantic architecture, known as the Fairytale Palace. We discover the Pena Palace and its secrets in a surprising guided tour. We then visit the historical centre of Sintra, where the afternoon invites us to taste the traditional Queijadas de Sintra, among other specialties of the village's pastries. With a packet of queijadas in hand, we set off to discover the flowery nooks, stairways, fountains and narrow streets that lead to the town's Palace - and if we look upwards, we see the walls of the Moorish Castle – castelo dos mouros. We cross the Sintra mountains towards the sea, and as we go along, the landscape goes from the palaces and gardens, to wilder vegetation and cliffs facing the sea - this is where we find Cabo da Roca, the westernmost point of Continental Europe, where the sun shines over the immense ocean. The descent of the mountain meets the rocky coast we travel along until we reach the picturesque village of Cascais, where we pass in panoramic view, as well as Estoril with its Casino and summer villages surrounded by small beaches. And it is with stories of espionage that we return to Lisbon, accompanied by the last rays of sunshine.
Route & Stops
PENA PALACE & SINTRA TOUR
01 - Praça do Comércio
02 - Vila de Sintra | (30 min free time)
03 - Palácio Nacional da Pena | (1h30 guided visit)
04 - Cabo da Roca | stop 20min
05 - Praça do Comércio
Important Information
Ticket type
Duration
Departure point
Praça do Comércio Yellow Bus kiosk
(Coordinates: 38.708104, -9.137723)
Schedules
We will be back soon.
Please stay tuned to our website and social media platforms for schedule updates.
Guide
Portuguese, English, French
Advantages & Discounts
10% Discount in other Yellow Bus tickets
Redemption instructions
In order to activate the voucher, please present it (either in print or on your smartphone) at the Yellow Bus Kiosk, in Praça do Comércio, which is also the meeting point for this tour
Please be at this meeting point 15 min. earlier, for the check-in
Usage instructions
Ticket validity: 1 trip
CARRISTUR reserves the right to change, suspend or eliminate any of its touristic products or transport services
CARRISTUR shall not be held responsible for tickets loss or theft.
Booking terms
Minimum nr. of participants : 2
Cancellation policy
Free cancellation, if not used, within 14 days after purchase. After this period the refund will not be possible.
If bought as a Flexible Ticket, the voucher is valid for 180 days. If it is not possible to take the tour within this period or on the date selected at the purchase moment (Fixed Date Ticket), you can request us a date change by email, which will be made without any penalty, as long as the product is still available.
Alerts
Children under 4 years can not be transported.
Not recommended to people with reduced mobility,
More information
Find us at the at the Praça do Comércio Yellow Bus Kiosk (9.00am-6.00pm)
or contact Yellow Bus Customer Service- (+351) 218 503 225 (9.00am-1.00pm) | [email protected]