The Hills Tramcar Tour will not be available on september 17th We apologize for the inconvenience.
Tram & Boat Tours - Typical Tramcar and River Tagus Cruise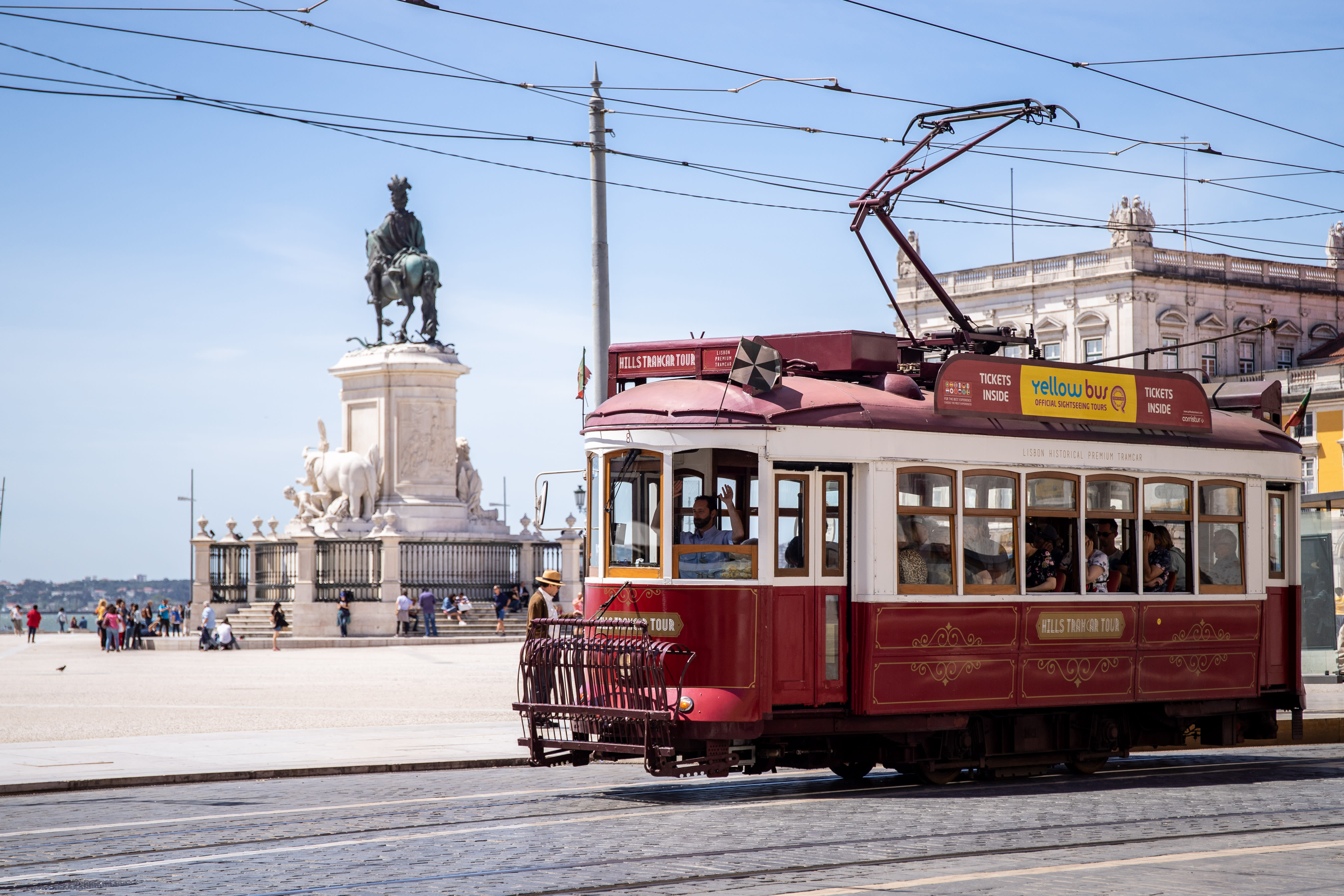 TOUR DESCRIPTION
Live the adventure of wandering through the hills with the Hills Tramcar Tour, where you'll discover the Lisbon old quarters like Mouraria, Alfama, Chiado and Bairro Alto. Relax on a river Tagus cruise, on board Yellow Boat tour, and enjoy the views of the beautiful 25th April Bridge and the Christ The King monument. At a stop in Belém, get to know the most important monuments and try the delicious custard cream specialty: Pastéis de Belém.
Old Lisbon 28 route on a historical tramcar and river cruise
Combo ticket: Hills Tramcar tour + Yellowboat
Hop on Hop off
Stops in Belém área, Alfama, Bairro Alto and near the Castle
1h30 duration tours
48h ticket validity
Free access to Santa Justa lift, funiculars and public trams
MORE INFORMATION
When we visit new places we want to experience typical things. The trip by tram is part of what to do in Lisbon. With this combo you can do it, following the same route of tram 28, passing through the districts of Alfama, Mouraria and Bairro Alto. In this trip you will discover History, hills, battlements, details, nooks and crannies, monuments that make Lisbon so unique. We talk about landscapes, pictures or paintings that show that corner, that detail, that moment, those features that are, simply, Lisbon. On the river cruise you can enjoy all this uniqueness. You can hop off at any of the stops: Cacilhas or Belém. This is a must visit point to its monuments: CCB, Jerónimos Monastery, MAAT, Discoveries Monument. And of course, taste the pastel de nata, Belem pastries. Come, and then tell us how it was.
Routes & Stops
HILLS TRAMCAR TOUR
1 - Praça do Comércio
2 - Martim Moniz
3 - Graça
4 - Portas do Sol
5 - Sé
6 - Rua da Conceição
7 - Camões
8 - Estrela
9 - Praça do Comércio
YELLOW BOAT TOUR
1 - Terreiro do Paço- Sul e Sueste Terminal
2 - Belém - MAAT
3 - Terreiro do Paço- Sul e Sueste Terminal
Important Information
Ticket type
48h (from the first validation) - Hop On Hop Off
Duration
Hills Tramcar Tour: 1h30
Yellow Boat River Tour: 1h30
Departure point
Hills Tramcar Tour: Praça do Comércio
Yellow Boat River Tour: Terreiro do Paço (Sul e Sueste Terminal)
Schedules
Hills tramcar: 10h30 / 11h30 / 12h30 / 13h30 / 15h00 / 16h00 / 17h00 / 18h00
Yellow Boat River Tour: 12h00 / 15h00 / 17h00
Audio guide
Hills Tramcar Tour::
Portuguese, English, French, Spanish, German, Italian, Dutch, Japanese, Russian, Portuguese in Brasil, Swedish, Mandarin
Yellow Boat River Tour
Portuguese, Spanish, English, French
Advantages & Discounts
- FREE access to Santa Justa Lift and viewpoint
- FREE access to Bica, Gloria and Lavra funiculars and to Carris public trams
- Discounts on tickets to monuments, museums and leisure activities
- 25% Discount in other Yellow Bus tickets
Redemption instructions
In order to activate this voucher, please show it (either in print or on your smartphone) to the driver or another member of the Yellow Bus Team, or at the Yellow Bus Kiosk at Praça do Comércio (9.00am-6.00pm)
You will receive a ticket in exchange for your voucher, which you must keep until the expiry date.
Please check your ticket to know when it expires.
After exchanging your voucher for a ticket, your voucher will no longer be valid.
Usage instructions
Ticket validity: 48h from the first validation
Hop on Hop off: hop on and off on any stop along the route, while your ticket is valid.
CARRISTUR reserves the right to change, suspend or eliminate any of its touristic products or transport services.
CARRISTUR shall not be held responsible for tickets loss or theft.
Cancellation policy
Free cancellation, if not used, within 14 days after purchase. After this period the refund will not be possible.
If bought as a Flexible Ticket, the voucher is valid for 180 days. If it is not possible to take the tour within this period or on the date selected at the purchase moment (Fixed Date Ticket), you can request us a date change by email, which will be made without any penalty, as long as the product is still available.
More information
Find us at the at the Praça do Comércio Yellow Bus Kiosk (9.00am-6.00pm)
or contact Yellow Bus Customer Service- (+351) 218 503 225 (9.00am-1.00pm) | yellowbus@carris.pt
COVID-19 MEASURES
- The use of a mask is mandatory. The customer must bring their own mask.
- Alcohol gel available.
- Digital flyer available
- Places with social distance
- Vehicles cleaned and disinfected every day
RELATED PRODUCTS
72H Ticket - Bus, Boat & Tram
See all there is Lisbon in Bus, Tram and Boat
Combo ticket tours: Hills Tramcar + Belém Lisbon Bus + Modern Lisbon Bus + Yellow Boat river cruise
Hop on Hop off
Stops in Belém área, Nations Park, Alfama, Bairro Alto and near the Castle
1h30 duration tours
72h ticket validity
Free access to Santa Justa lift & funiculars, public trams
Adult
€45.00
Youth
€33.75