TRADITIONAL FADO SHOW
Discover the true lisboner soul on a Fado show in Lisbon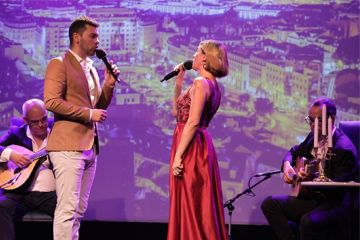 TOUR DESCRIPTION
Experience the live 'Fado in Chiado' show and discover the music that expresses the true soul of Lisbon. Enjoy a performance featuring 2 singers, and 2 guitarists.
A traditional fado show
The pride of Portugal through this musical form
Images during the performance of Lisbon locations
Important Information
Includes
Ticket to the Fado In Chiado show
Schedules
Duration
Local
Rua da Misericórdia 14, 2º andar, 1249-038 Lisboa
Contact
bilheteira@geniusymeios.pt
(+351) 961717778 - National landline call (Portugal)
Cancelation Policy
Cancel up to 48 hours in advance to receive a full refund.
Please send your request for: yellowbus@carris.pt and
MORE INFORMATION
Enjoy a Fado in Chiado performance and discover the soul of Lisbon. The musical form of fado was adopted as a part of Portuguese culture and is now a symbol of the nation. The show features talented artists. 2 singers and 2 musicians, playing the Portuguese guitar and classical guitar respectively, will perform accompanied by images of unique must-see locations in Lisbon. It is said that fado combines nostalgia, Portuguese pride, and hope, in a musical style epitomized by Amália Rodrigues. This musical form was declared part of the Intangible Cultural Heritage of Humanity by UNESCO.