Modern Lisbon Bus Tour - Sightseeing Hop-On Hop-Off Tour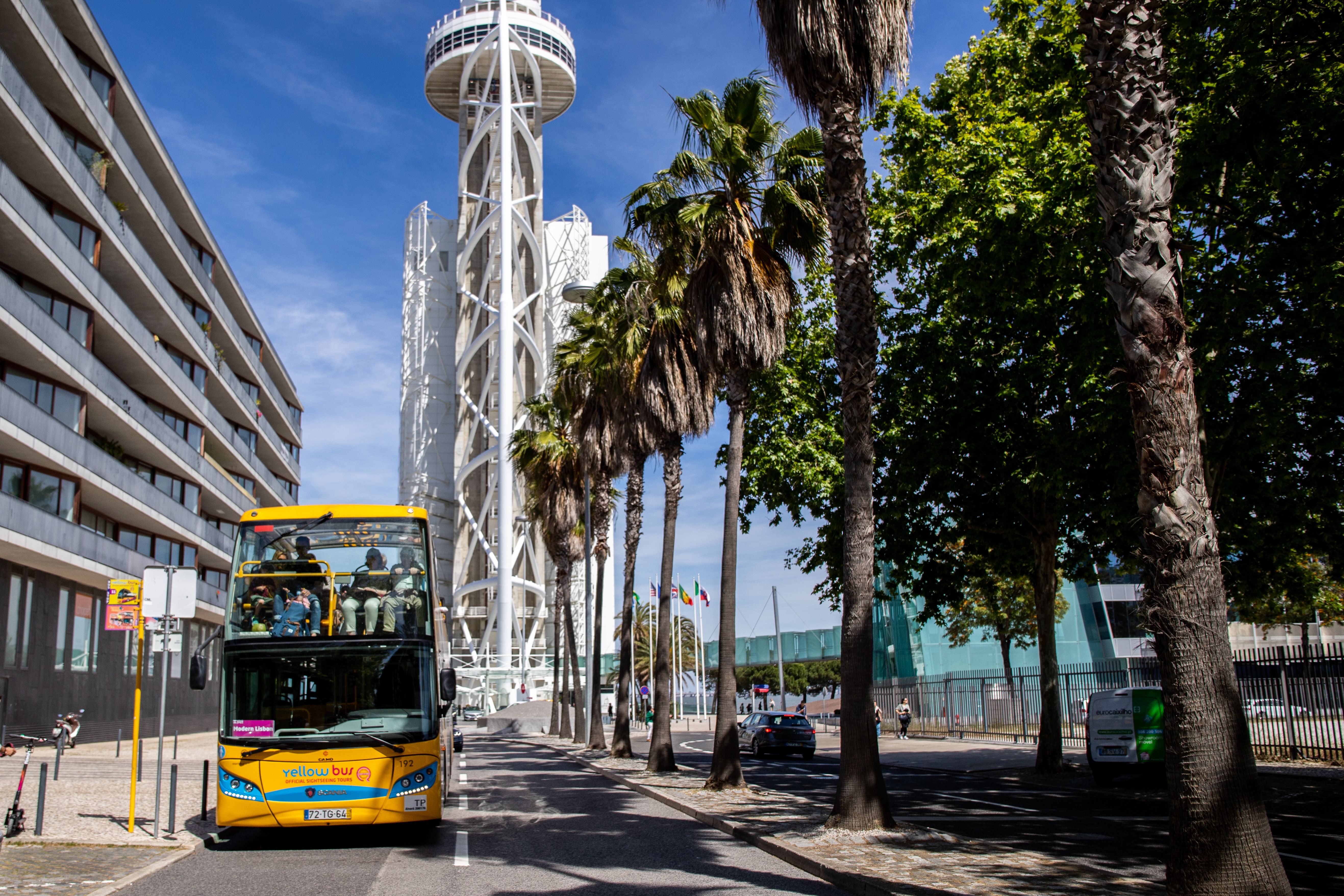 TOUR DESCRIPTION
Discover Lisbon, from the city center to Parque das Nações, Campo Pequeno and Santa Apolónia. Take a break for an incredible experience at the oceanarium, one of the biggest in the World.
The highlights and Modern Lisbon on Open Top Bus
Hop on Hop off
Stops in Nations Park & Oceanarium
Audioguide in 12 languages
1h30 duration
24h ticket validity
Free access to Santa Justa lift, funiculars and public trams
MORE INFORMATION
In this tour, we go along the river Tagus towards the eastern part of the city, and one of the things to do in Lisbon is a visit to the Tile Museum (as we pass there on the way) and learn more about the famous glazed tiles, azulejo.
Parque das Nações is one of the most recent areas of Lisbon, that hosted the 1998 World Expo. A leisure area with a modern architecture where exhibitions, fairs and big events take place. Buildings such as Gare do Oriente, Vasco da Gama Shopping Centre, Pavilhão de Portugal, Pavilhão Atlântico, and Torre Vasco da Gama stand out, contrasting with the centenary capital.
By the riverfront we see cable cars and the famous Oceanarium, one of the biggest in the World, where everyone is amazed at its diversity of species.
The sightseeing double-decker crosses the city and its main avenues. You'll see Campo Pequeno Square, in neo-Arab style and the most recent Lisbon cruise terminal in Santa Apolónia, in this Modern Lisbon Bus Tour.
LISBON TOURS STOPS
LISBON BUS TOURS SCHEDULES
Important Information
Ticket type
24h (from the first validation) - Hop on Hop Off
Duration
Starting point
Schedules
Until 31 oct
Every day
10:00 - 19:00 (every 60 min.)
Winter Season ( 1 nov - 31 mar)
Every day
10:00 - 17:00 (last departure)
every 60 min.
Routes & Stops
1 - Praça da Figueira
2 - Rua do Comércio
3 - Yellow Boat Terminal
4 - Lisbon Cruise Terminal - SUSPENDED
5 - Santa Apolónia
6 - Museu do Azulejo
7 - Oceanário
8 - Pavilhão de Portugal
9 - Vasco Gama Shopping/FIL
10 - Torre Vasco da Gama/Hotel Myriad
11 - Campo Pequeno
12 - Restauradores
13 - Praça da Figueira
Audio guide
Portuguese, English, French, Spanish, German, Italian, Dutch, Japanese, Russian, Portuguese in Brasil, Swedish, Mandarin
Advantages & Discounts
- FREE access to Santa Justa Lift and viewpoint
- FREE access to Bica, Gloria and Lavra funiculars and to Carris public trams
- Discounts on tickets to monuments, museums and leisure activities
- 10% Discount in other Yellow Bus tickets
Redemption instructions
In order to activate the voucher, please show it (either in print or on your smartphone) to the driver or another member of the Yellow Bus Team, or at the Yellow Bus Kiosk at Praça do Comércio (9.00am-6.00pm)
You will receive a ticket in exchange for your voucher, which you must keep until the expiry date.
Please check your ticket to know when it expires.
After exchanging your voucher for a ticket, your voucher will no longer be valid.
Usage instructions
Ticket validity: 24h from the first validation
Hop on Hop off: hop on and off on any stop along the route, while your ticket is valid.
CARRISTUR reserves the right to change, suspend or eliminate any of its touristic products or transport services.
CARRISTUR shall not be held responsible for tickets loss or theft.
Cancellation policy
Free cancellation, if not used, within 14 days after purchase. After this period the refund will not be possible.
If bought as a Flexible Ticket, the voucher is valid for 180 days. If it is not possible to take the tour within this period or on the date selected at the purchase moment (Fixed Date Ticket), you can request us a date change by email, which will be made without any penalty, as long as the product is still available.
Travelling with pets?
Small animals can be transported on our panoramic buses, trams, and boat, only inside carrier baskets, without occupying a seat. Guided dogs are allowed and do not require a carrier basket. Please see examples of ACCEPTED PET CARRIERS
More information
Find us at the at the Praça do Comércio Yellow Bus Kiosk (9:00/17:30).
or contact Yellow Bus Customer Service- (+351) 218 503 225 (Mon – Sun: 9:00am – 1:00pm) - National landline call (Portugal)
yellowbus@carris.pt